Dr. Jean Scott, a UFV honorary doctorate recipient and long-time friend of the university, passed away on February 25, 2015.

She was a well-known community activist and feminist who made her mark both locally and nationally, and was 102 years old at the time of her passing.

UFV conferred an honorary degree on Jean, as she was known to her wide circle of friends, in 2002. She was the first woman to receive an honorary doctorate from UFV.

Jean was born one week after the sinking of the Titanic in 1912, and shared her April 21 birthday with Queen Elizabeth, but liked to note that she had seniority over the Queen by 14 years.

She had been a social activist longer than most people have been alive. She devoted her life to causes that promote social justice, women's equality, and the rights of the common person. She also had a strong commitment to community service.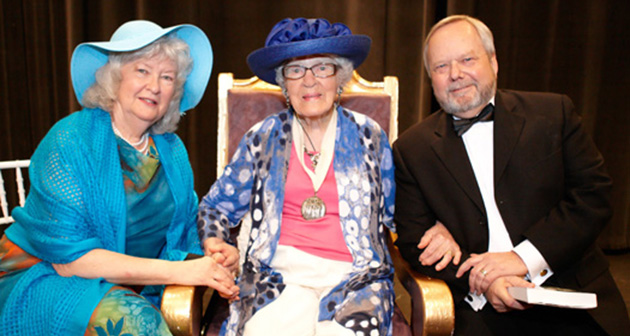 During her time in Chilliwack she was involved with the Ann Davis Transition House, the Chilliwack Museum, the Academy of Music, the New Democratic Party, and Carman United Church, along with many other causes and organizations. She organized events commemorating International Women's Day, the Dec 6 National Day of Remembrance and Action on Violence Against Women, and Person's Day, commemorating when women were recognized as persons under the law in the 1920s. The Jean Scott Transition House in Hope is named in her honour.
"I will miss Jean's wit, charm and passion for our community, our University, and the value of education in improving the lives of women. She has touched so many of us, inspiring and challenging us, and leading by action. She lives on in the many young women she has encouraged and supported," said UFV presidentMark Evered.
"Dr. Scott was one of the most remarkable women I have ever had the privilege to meet," says Justin P. Goodrich, board chair of the UFV Alumni Association. "She had an infectious smile and a sharp wit. She always had a story to share and a kind word of encouragement. She was — without question — our most treasured alum and she will be forever missed."
In 1990, she received the Governor General's Person's Medal, which is presented annually to Canadians who have earned respect through their contributions to the goal of equality for women in Canada. After a lifetime of struggle and achievement, and tireless dedication to social justice and many causes, Scott wrote and self-published her memoir in 2005. Brown Sugar and A Bone in the Throat is a compelling narrative of one woman's journey through childhood poverty, the Depression, World War II, multiple romances and marriages, and several political movements.
Jean was devoted to learning and one of her prized possessions was a plaque with a quote from Michelangelo that said "I am still learning." Among her favourite sources of knowledge and culture were CBC Radio, library books, concerts and theatre outings, and courses taken through UFV partner ElderCollege.
Jean was an enthusiastic participant in many UFV ceremonies and events. She especially liked attending Convocation and UFV Giving Thanks events, which recognized UFV donors and their recipients. She loved to meet the students who received her scholarship, and enjoyed the festive and celebratory aspects of Convocation, as she never had the chance to attend university herself.
Until her last days, Jean to continued to inspire people with her energy, her optimism, and her love of music and a good cause. She lived at the Lynnwood Retirement Residence in Chilliwack and led sing-a-longs and participated in creative writing workshops.
UFV threw several birthday parties for Jean as fundraisers for the Jean Scott Endowment Scholarship, which awards a scholarship annually to a UFV student. The aim of the scholarship is to assist in improving women's lives in Canadian society through support of education relating to social and political issues that impact women's equality.
Jean is survived by son Spencer, daughter-in-law Sonia, two grandchildren, a great-granddaughter, other cherished relatives, and many friends.
The endowment currently sits slightly more than $61,000, which funds an award in the range of $1,000 each year.
Donation forms will be available at her memorial service. Details on the service will be published when they become available.
You may also call 604-854-4595 to make a donation over the phone. Or you can make an online donation by visiting ufv.ca/giving and clicking 'Donate Now' or emailing giving@ufv.ca.