Rogers Executive Calls on Canadian Government to Shut Down VPNs
By Michael Geist. 27/02/15 – The Content Industry Connect conference, which was held in Toronto yesterday, featured a panel of leading television executives from Bell, the CBC, Corus, Rogers, and Shaw Media. Several people were live-tweeting the event when a comment from Rogers Senior Vice President David Purdy caught my eye. According to Kelly Lynne Ashton, a media policy expert, Purdy called on the Canadian government to shut down the use of virtual private networks: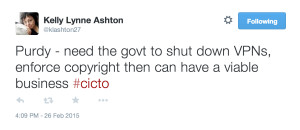 A similar tweet was posted by Marcia Douglas, a Bell Fund program manager:
Conference organizers posted yet another tweet, this one involving Purdy lamenting the inability to block over-the-top video services:
The frustration over the popularity of Netflix (including Canadians accessing U.S. Netflix) is unsurprising. If Rogers is upset over VPN use to access U.S. Netflix, it should take it up with Netflix. Instead, focusing on consumer VPN use by suggesting that the solution lies in blocking legal technologies in order to stop consumer access is a dangerous one. Countries like China have tried to regulate VPNs, while Iran and Oman have tried to ban them. A Canadian attempt to do so would be subject to an immediate legal challenge, particularly since virtual private networks are widely used within the business community and play a crucial role for consumers in preserving user privacy, enabling access to information, and facilitating free speech. There is no indication that the Canadian government has any interest in targeting VPNs, but it comes as a shock to hear a Rogers executive calling for them to be shut down.